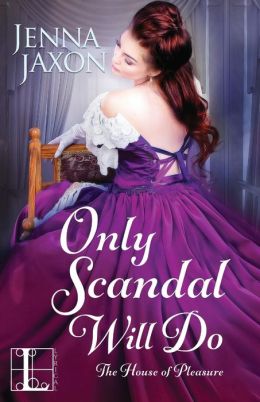 $0.99
Amazon
Barnes & Noble
The House of Pleasure, #1
He has the woman of his dreams, but what price will he have to pay to win her heart?
Kidnapped and sold at auction in a London brothel, Lady Katarina Fitzwilliam squelches an undeniable attraction to the masked stranger who purchased her, pits her wits against him, and escapes him and the scandal that would ruin her life.
Unable to resist temptation in a London brothel, Duncan Ferrers, Marquess of Dalbury, purchases a fiery beauty. She claims she's a lady, but how can she be? No lady of his acquaintance in polite society is anything like her. Then he discovers she is who she says, and that this latest romp has compromised her reputation. He knows how that is. One more scandal and he'll be cast out of London society, but he needs a wife who'll provide an heir to carry on his illustrious family's name. He seeks out Katarina, intending only to scotch the scandal, but instead finds his heart ensnared. He's betting their future he'll capture her heart, but does he have what it takes to win the wager?
Content warning: A blade-wielding heroine who crosses swords with a master of sensuality.
Excerpt:
Katarina clutched the chair's golden upholstery to keep from launching herself at him and wrapping her fingers around his arrogant throat. "I am Lady Katarina Fitzwilliam, sister to the Earl of Manning. I was kidnapped and brought here tonight against my will."
He cocked his head. Then his mouth twitched. "Truly? What an exciting life you must lead…Lady Katarina, was it?" He chuckled deep in his chest, and took a step toward the chair.
She glared at him. "I
am
Lady Katarina Fitzwilliam, you dullard."
"

And true ladies always run around London at night scandalously underdressed as Greek slaves?"
"

My brother and I were on our way to a masquerade ball when I was abducted."
"

As was I, fair lady," he bowed with an exaggerated flourish, "when I decided to come to this charming establishment instead. Perhaps if we had continued on our ways uninterrupted, we would even now be dancing together at the ball."
That nasty laugh grated against her nerves worse than the screech of rusty nails, making her contemplate murder. If the scoundrel didn't believe her story, killing him might be her only means of escape.