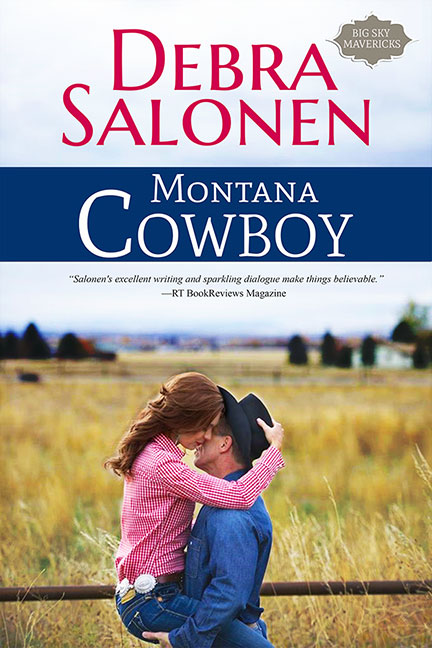 Montana Cowboy by Debra Salonen
Austen Zabrinski looks the part --
He's got the ranch, the boots, the hat and even a few head of cattle, but everybody in Marietta, Montana, knows the former golden boy of Marietta High is a wealthy politician, not a cowboy. And even though that nasty scandal in Helena might have knocked him down a notch or two in the polls, what kind of a fool would trade access to the halls of power in Helena and a Harvard law degree for a ranch in western Montana? Possibly one whose new neighbor, Serena James--the woman the guys at Grey's Saloon call "...the Red Hot Llama Mama"--makes him start to think about what he wants out of life, instead of what's expected of him.
Serena James knows trouble when it hops her fence--
Moving to Montana and deleting her blog seemed like the perfect solution to her online stalker problem. Serena's ready for a fresh start, but when her escrow on her ranch falls through, she has to scramble to find an immediate but temporary safe haven to rent for her herd of 50 alpacas, two llamas and one giant dog. Serena's barely moved in when Austen Zabrinski--the man her landlord called "my absentee ranch owner brother who lives and works in Helena"--hops the fence in need of a lift. Even at first glance, Serena can tell he's nobody cowboy, but who's to say that isn't a good thing? A little tryst with her gorgeous, sexy, here-today-gone-to-Helena-tomorrow neighbor might be the perfect welcome to Montana.
Finding Home by Roxanne Snopek
Fourteen years after her abrupt departure, Samara Davis is back in Marietta, Montana. Now a widow, all she wants is to give her anxious four-year old daughter, Jade, a happy, stable home. Unfortunately, the heritage house she purchased is nowhere near ready for occupancy. And the man responsible for the delay is none other than high-school golden boy and love of her life Logan Stafford, available, interested and just as swoon-worthy as ever.
But this single mother has one priority. She's all Jade has, and she'll do anything, make any sacrifice, for her child's future. And getting distracted by a long-lost boyfriend is not on the agenda.
Logan Stafford never forgot the lonely girl from the wrong side of the tracks who broke his heart. Not only is she as irresistible as ever, but her delightfully odd little girl has him wrapped around her finger in no time. Believing they've been given a second chance, Logan's determined to pull out all the stops on the house to prove to them both that he's a guy they can count on.
But, despite how easy it is to love Logan, second chance is still a gamble Samara can't afford to take.
Paradox - The Angels Are Here by Patti Roberts
Two mysterious strangers arrive just in time to help Grace Connors as she struggles to cope with the death of her father. But are the intentions of these strangers as innocent as they first seem, or is something far more sinister on their agenda?
Meanwhile, in a faraway realm, a race of fallen Angels clash with a ruling house of Angels. Their battle changes events in the Ancient World and the New World forever. A realm where a year can last centuries and an ancient, magical people still rule... A realm where even the immortals face danger.
A story that will indeed leave you asking... Who, When, Where? WHAT!
My name is Juliette. Nine hundred years ago, I died. Today, I am alive... This is my story.