Dare to Touch by Carly Phillips
$0.99
Olivia Dare, executive director of the Miami Thunder, and team travel director, Dylan Rhodes share more than just a passion for football–their chemistry is explosive and their feelings for each other are intense. But Olivia is wary of any man getting too close. Given her background – a near-bigamist dad and an ex-boyfriend who merely enforced her lack of priority in his life – Olivia fears being hurt again but she can't resist embarking upon a passionate affair with Dylan, even as she holds part of herself back.
Dylan isn't a man who does anything half way. Once he decides to pursue Olivia, he goes all in. When the Pro-Bowl takes them to the desert oasis of Arizona, Dylan is determined to make sure their time together isn't all business. What happens while at the luxury resort is life altering but when Olivia admits her deepest pain, will Dylan be able to prove he's a man with staying power? Or will Olivia be disappointed again, this time by the most important man in her life?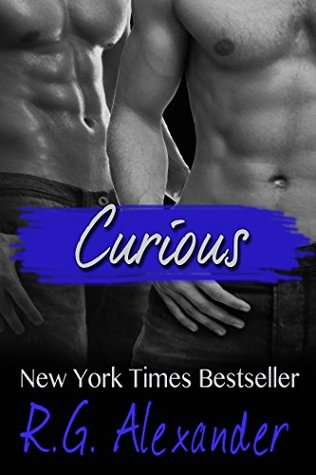 Curious by R.G. Alexander
$2.99
Are you Curious?
Jeremy Porter is. Though the bisexual comic book artist has known Owen Finn for most of his life—long enough to know that he is terminally straight—he can't help but imagine what things would be like if he weren't.
Owen is far from vanilla—as a dominant in the local fetish community, he sees as much action as Jeremy does. Lately even more.
Since Jeremy isn't into collars and Owen isn't into men, it seems like his fantasies will remain just that forever…until one night when Owen gets curious.
Warning:
Contains explicit m/m nookie. A lot of it. Very detailed. Two men getting kinky, talking dirty and doing the horizontal mambo. Are you reading this? Do you see them on the cover? Guy parts will touch. You have been warned.
Suckers Lost and Found by Jessica McBrayer
$3.99
Manda is still lost. Things are pointing to a vampire trafficking ring. Aidan, the djinn, is depressed and desperate wearing himself ragged looking for traces. Ganga Girl and our Vamp Lily are hot on the trail while Sebastian is trying to keep Lily safe from the wiles of the Italian Vampire King, Basilio.
All the usual suspects in our favorite pack of vampires are committed to finding Manda, whatever the cost. The family is determined to keep Aidan from dissolving into the hot desert winds that make up his being.
Sebastian and Lily have a wedding to plan but can they go forward with Manda still missing? More twists and turns than ever before await the vampires from the City by the Bay.