The Three Kitties That Saved My Life by Michael Meyer
$0.99 or FREE for Kindle Unlimited Subscribers
Love was then.
Love is now.
Love is forever.

I thought that I would never be able to love again after the tragic death of my wife, my partner in life. I was wrong. I do. I fell in love with Kitty and two adorable rescue cats. This is the true story of my journey from love and loss to love once again. My story begins with some tears, but it ends with love and laughter.
A true story of love and romance.
Love Ever After: Eleven All-New Romances!
$0.99
For a limited time, get eleven ALL-NEW romances in one EXCLUSIVE collection! Cowboys, rock stars, hockey players, shifters, vampires and more!
Yours To Teach (Captured and Claimed #2) by Cathryn Fox: After an introduction to the darker side of pleasure, Rebecca is anxious to experience the lifestyle to its fullest. Whisked away to a private resort by her lover, she is given a deeper glimpse into BDSM. Humbled that Rebecca has placed her trust in his hands, Quinn intends to take her training slowly. But when he sees her interest, he can't help but think he needs to start sooner rather than later.
Forever Begins With a Kiss (Wardham #8) by Zoe York: Chase & Mari tie the knot. WARNING: This book overflows with sexy hockey players, frothy wedding details, and frivolous sex scenes.
Reign of the Vampire Book 1 by Sharon Page: Moving to Manhattan to work, Lauren is drawn into the world of seductive biker vampire Batiste Carlyle and his eternal battle with his destructive billionaire brother Renoir. As Lauren uncovers secrets of her past, she begins to trust Batiste, until he takes her captive…
Project Virgin by Megan Crane: First-year lawyer Scottie Grey breaks off her long engagement to a cheating liar and decides it's high time she got rid of her virginity instead of saving it for a wedding day that might never come—maybe to San Francisco's infamous and most intimidatingly sexy attorney Damon Patrick?
Committed (Lost in Oblivion, #3.7) by Cari Quinn & Taryn Elliott: With the crash and burn of Simon Kagan's singing career, things have been a little off between him and Margo Reece. The passion is there—it's always there—but he wants to make sure she knows just how invested and committed he is to making her happy. Even if that means breaking out a ring and convincing her to wear it.
All About the Bear by Biana D'Arc: Welcome to Grizzly Cove, where the sheriff has more than the peace to protect. The proprietor of the new bakery in town is clueless about the dual nature of her nearest neighbors, but not for long. Sheriff Brody will clue her in and convince her to stay calm—and in his bed—for the next fifty years or so. Yeah, that might be enough. Then again, maybe he'll keep her forever.
Tango For Two (Limelight #2.5) - In this Limelight series short story, makeup artist to the stars, Jasmine, agrees to learn and perform a sexy tango live on television for a charity telethon. The only trouble is the obnoxious celebrity she's partnered with AND the fact that she's falling for her charismatic choreographer, Eduardo.
Longing for Langston (Mavericks of Meeteetse Prequel) by Renee Vincent: Tired of living in his brother's shadow, Brody Galven wants the folks of Meeteetse to realize he's no longer a bad boy screwup. He also wants his childhood best friend, Olivia Langston, but admitting he loves her is out of the question…even when she's about to walk out of his life forever.
Laguna Heights (Laguna Beach #2) by Kaira Rouda: Annie and Hank created a perfect life in beautiful Laguna Beach but when a dark secret is revealed, will their marriage survive?
Plush by Nina Lane: She's his wicked stepmother, and he's no prince.
Fighting for Forever (The Springs) by Elena Aitken: Ever since falling in love at The Springs, Rhys and Kari have been living a fairy tale, but fairy tales aren't real. Or are they? When Kari runs from the idea of forever, Rhys will have to fight for them. But will it be enough?
Lunar Curse - 7 Book Box Set
$0.99
Werewolf Suspense 7 book box set
For a limited time only!
Seven of today's best selling authors bring you a box set full of myths, legends and lore. Each of these authors has their own take on these monsters. You will be thrown into worlds of suspense, mystery, horror and dark fantasy with this set. 524,293 words!
Original Foreword by Award Winning Author Jonathan Maberry
Lycan Fallout: Rise Of The Werewolf by Best Selling author Mark Tufo
Takes you into a post apocalyptic world torn apart by zombies only to have a greater evil rise.
The world of man was brought to its knees with the zombie apocalypse. A hundred and fifty years have passed since man has clawed and climbed his way from the brink of extinction. Civilization has rebooted, man has begun to rebuild, to create communities and society. It is on this fragile new shaky ground that a threat worse than the scourge of the dead has sprung. One man finds himself once again thrust into the forefront of a war he wants nothing to do with and seemingly cannot win. Follow along as Michael Talbot attempts to thwart the rise of the werewolf.
High Moor by Best Selling author Graeme Reynolds
Brings the very best of a British Horror novel to you in his Werewolf Tale. Start to finish action filled horror.
When John Simpson hears of a bizarre animal attack in his old home town of High Moor, it stirs memories of a long forgotten horror. John knows the truth. A werewolf stalks the town once more, and on the night of the next full moon, the killing will begin again. He should know. He survived a werewolf attack in 1986, during the worst year of his life.
No Such Thing As Werewolves: Deathless By Best Selling author Chris Fox
Up and coming author Chris Fox brings you the werewolves of lore in his action packed adventure.
A plague of werewolves spreads across the world. A sunspot larger than anything in recorded history begins to grow. Yet both pale in comparison to the true threat, the evil the werewolves were created to fight.
Outage by Best Selling author T.W. Piperbrook
Modern day suspense at its best. A roller coaster of a story from start to finish.
When newlyweds Abby and Rob awaken, the power is out, the neighborhood is covered in snow, and the house is freezing. They'll soon find out that the storm is the least of their worries. Somewhere outside, something else is lurking. Waiting for the chance to strike...
The Plan by Best Selling author Christine Sutton
Exclusive peak into Christine's Burkheart Witch Saga Series. A Short prologue to introduce you to one of the evils that lurks throughout her books.
Autobiography Of A Werewolf Hunter By Award Winning author Brian P. Easton
Brian takes you into the occult with this Book. Horror and suspense at its best.
It takes more than silver bullets to kill a werewolf.
Sylvester James knows what it is to be haunted. His mother died giving birth to him and his father never let him forget it; until the night he was butchered by a werewolf--the night a full moon ruined his life.
To kill a werewolf, it takes a hunter with a perfect willingness to die.
City Under The Moon By Award Winning author Hugh Sterbakov
"Bioweapon catastrophes, government conspiracies, military sieges, historical revelations, psychological warfare and werewolves. You want more thrill from a thriller?" – Seth Green
On New Year's Eve in Manhattan, a werewolf attack sparks an epidemic. Each night the victims multiply. The disease spreads. An army grows.
As authorities scramble to contain the monsters, they discover that one man is behind them.
His name is Demetrius Valenkov. And he has a message for the United States: FIND A CURE.
Tens of thousands are infected. Time is running out.
Earl of Scandal by Mary Gillgannon
$2.99
When Christian Faraday wakes up in bed next to the wife of one his friends, he decides his life of pleasure-seeking and debauchery has gone too far. He vows to make a change and leaves London to seek a new start. On the way to a friend's country home, he narrowly escapes a serious carriage accident. The driver of the other vehicle is Merissa Cassell, a pert, no-nonsense country miss who disdains all noblemen. As she berates him for his carelessness, Christian is intrigued. He's never before encountered any woman like this tart-tongued rector's daughter.
Although she tells herself that she has utter contempt for the arrogant Londoner, Merissa can't help how her body reacts to Christian's dazzling blue eyes, imposing physique and lazy charm. Realizing she can hardly leave him to freeze by the side of the road, she takes him back to the family home. Christian expects spending the night at the Cassell's simple farmhouse will be a tedious bore. Instead, he is touched by Merissa's sister Elizabeth's warmth and hospitality. And the more he is around Merissa, the more intensely he finds himself drawn by her fresh-faced prettiness and stunningly independent attitude.
He tells himself it would be completely inappropriate to pursue an innocent like her, a denial of his vow to change his wastrel ways. But when a family crisis forces Merissa to make a scandalous proposition, Christian begins to realize this isn't one of his usual dalliances, but an affair that will turn everything upside down and change his life forever.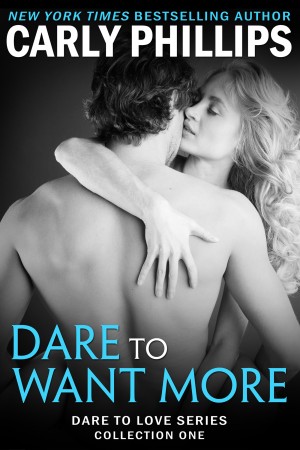 Dare to Want More: Dare to Love Series: Collection One by Carly Phillips
$5.99
Meet the men of the Dare family ... siblings shaped by a father's secrets and betrayal. An alpha, billionaire football team owner with a penchant for dominance, an all-star quarterback on the verge of losing everything discovers what's really important, the team's sexy travel director willing to pull out all the stops, and a hot cop determined to protect what's his at all costs. One book with four sizzling stories!
This Box Set contains 4 full length novels.
* For reviews check out the individual books in the series.
Dare to Love
Dare to Desire
Dare to Touch
Dare to Hold
*All Dare to Love series books can stand alone as individual reads.
Life Being Soul Without Drama by Carrie Louise
$6.50 or FREE for Kindle Unlimited Subscribers
Releasing Drama and Moving into Authenticity
We, as humans being human, are living in a world of self-created drama. Because we are alive, and because we have our own personal histories, it is a given that the beliefs spawned by our histories are playing out during our present day.
As children, we learned about family, religious, neighborhood, societal, and peer beliefs and associated drama roles. We assimilated and tried out the roles we thought might help us feel important, be loved, and keep us safe.
As adults, it would be wise for us to explore our day-to-day beliefs, thoughts, and the resulting scripts in which we perform on a regular basis.
When intuitively choosing one page per day, "Life, Soul Being Soul without Drama" will help each reader identify many causes and effects of drama and offer possible solutions for ridding ourselves of drama patterns that no longer serve the adult life of a seeker of peace and happiness. We can then live our authentic "Life, Soul Being Soul".