Her Perfect Life by Vicki Hinze
$0.99
From the USA Today Bestselling Author Vicki Hinze comes The Reunited Hearts, a romantic suspense series of standalone novels with couples in dangerous situations who reunite in atypical ways.
In Her Perfect Life, ex-POW Katie Slater is finally rescued. But coming home isn't the sweet reunion she'd dreamed it would be. Everything that had made her life perfect is gone. Her husband's remarried, her kids are strangers who call another woman mom, and her former co-pilot and best friend, C.D. Quade—the sexy best friend who'd deserted her in the desert—is all she has left. How is she supposed to cobble together any kind of life?
Katie struggles to determine what's real and what are tricks of the mind, to build a new life and rebuild relationships, and she makes an astounding discovery. Her perfect life hadn't been so perfect. But when she sees C.D.'s memorial to her—that she forever walks in his soul—Katie realizes this new life holds promise and could be perfect—if she has the courage to face her past and claim her future. If she has the courage to dare to love…
You Can Write for Children by Chris Eboch
$2.99 or FREE for Kindle Unlimited Subscribers
Remember the magic of bedtime stories? When you write for children, you have the most appreciative audience in the world. But to reach that audience, you need to write fresh, dynamic stories, whether you're writing rhymed picture books, middle grade mysteries, edgy teen novels, nonfiction, or something else.
In this book, you will learn:
How to explore the wide variety of age ranges, genres, and styles in writing stories, articles and books for young people.
How to find ideas.
How to develop an idea into a story, article, or book.
The basics of character development, plot, setting, and theme.
How to use point of view, dialogue, and thoughts.
How to edit your work and get critiques.
Where to learn more on various subjects.
This book does not cover the business side of writing. Most people spend too much time worrying about selling their work, and not enough time focusing on writing well. Not only is that counterproductive, but it takes the fun out of writing.
This book focuses on the craft of writing for children. It will help you get started, through straightforward information and exercises you can do on your own or with critique partners. If you've been writing for awhile but feel your writing education has gaps, this guide can help you work through those weak points. I share examples from my own work and teaching experience, as well as interviews and advice with published writers and industry professionals.
Whether you're just starting out or have some experience, this book will make you a better writer – and encourage you to have fun!
Dangerous by R.G. Alexander
$2.99
Do you like it Dangerous?
Brady Finn has been a cop and a Marine, but he's never been in a situation as dangerous as this one. Waking up naked in the bed of a man he's wanted for months--with no memory of how he got there--was only the beginning.
Rope Dom Ken Tanaka knows kink isn't Brady's scene, but he still can't resist the tall, redheaded Boy Scout. When their search for a missing person requires Brady to go above and beyond the call of duty, they'll both do what needs to be done for the mission--and give in to the undeniable passion between them.
Will their explosive chemistry last once the job is over? Or will taking that chance be more dangerous than either man is willing to risk?
Warning:
Explicit male/male sexy times. Voyeurism with a touch of noncon, role playing, rope. And, once again, very serious about the graphic gay sex. I'm not sure why you don't believe me... Also? An Evil League of Evil! Good kink vs scary villain kink (you've been warned), Finn Club rules and the aftereffects of The Great Rumming of 2015. I SAID RUMMING. Dirty minds.
!!!BONUS FREE READ!!!A Curious Proposal: An Owen and Jeremy quickie
You should at least read the first chapter of Dangerous before starting this.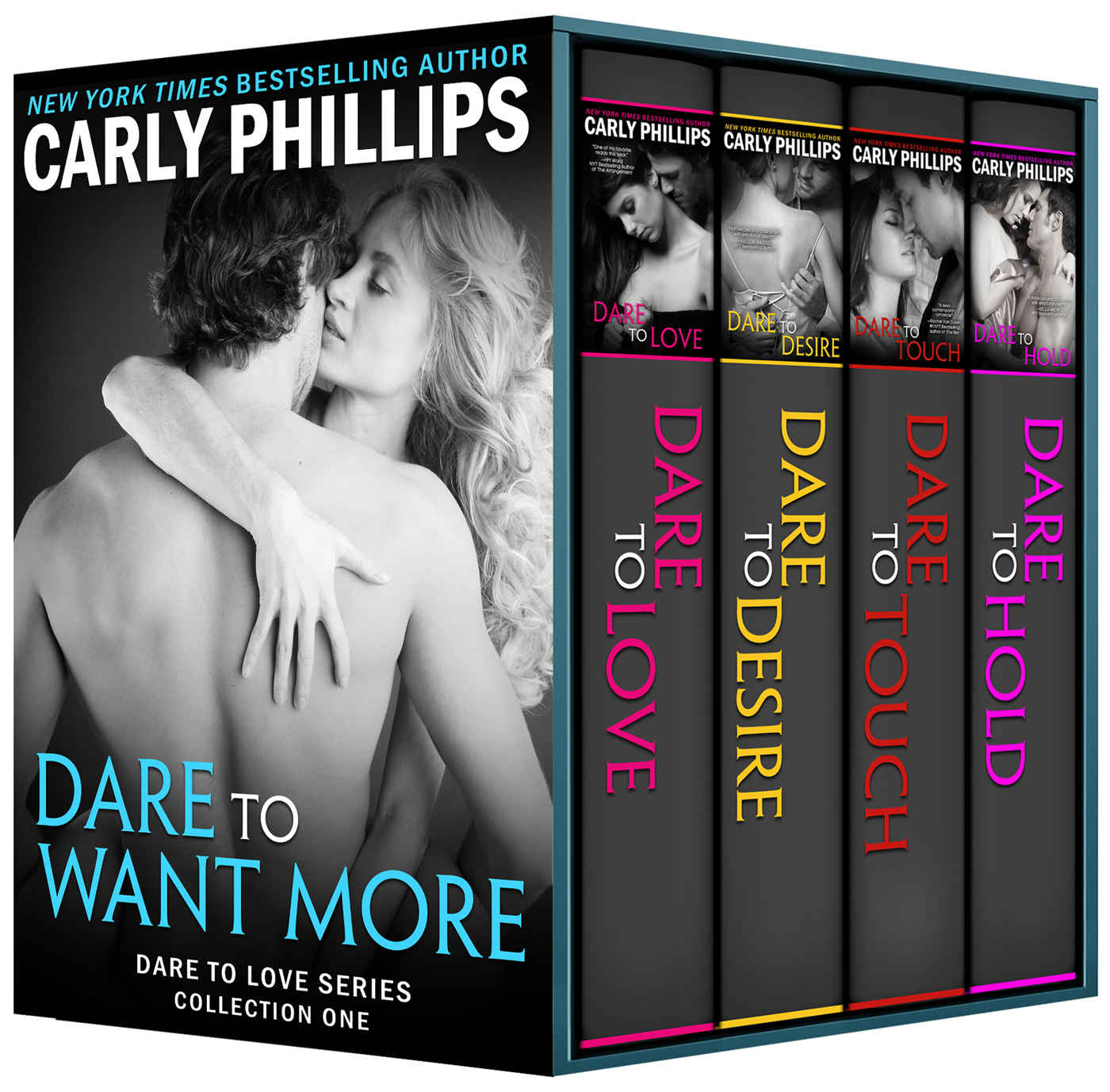 Dare to Want More: Dare to Love Series: Collection One by Carly Phillips
$5.99
Meet the men of the Dare family ... siblings shaped by a father's secrets and betrayal. An alpha, billionaire football team owner with a penchant for dominance, an all-star quarterback on the verge of losing everything discovers what's really important, the team's sexy travel director willing to pull out all the stops, and a hot cop determined to protect what's his at all costs. One book with four sizzling stories!
This Box Set contains 4 full length novels.
Dare to Love
Dare to Desire
Dare to Touch
Dare to Hold
*All Dare to Love series books can stand alone as individual reads.