Paradox - Progeny of Innocence by Patti Roberts
Long ago, in an almost forgotten realm, a race of fallen angels clash with a ruling house of angels. Their battle changed events in the ancient world and the new world forever.
A realm where a year can last centuries and an ancient magical people still rules, even the immortals face danger.
Trapped between the old world and the new is Grace, a girl cursed with horrific visions and memories from a past she does not understand.
Dare to Love by Carly Phillips
He turns a simple kiss into an all out assault on her senses
When it comes to family, billionaire football team owner, Ian Dare gives his all, but in relationships he offers the bare minimum. Until one glimpse of sensual Riley Taylor arouses his dominant and protective instincts. He will do anything to possess her ... and does. But any future with Riley must include him dealing his half-brother who is a constant reminder of the pain he'd rather forget.
Riley Taylor believes herself immune to domineering men - until charismatic Ian Dare turns a simple kiss into an all out assault on her senses and she discovers she likes his brand of control in the bedroom. As their affair heats up, they soon realize this is more than just an affair. But Riley's past is closer than she cares to remember, and her struggles with Ian's dominance might just cost her everything. If you like bad boy romances, alpha males or billionaire romances, this series is for you.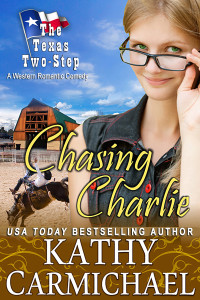 Chasing Charlie by Kathy Carmichael
Raised in a family of rodeo champions on a South Texas cattle ranch, Charlie wants only one thing: to avoid thrill-seeking cowboys.
Davis Murphy, cowboy wannabe and one of Dallas's most eligible bachelors, needs a pretty and witty faux fiancée so his widowed mother will marry her longtime gentleman friend. Charlie, his local librarian, seems the prefect choice.
Charlie's first reaction is to run, but she's promised herself to step out of her plain-jane routine. When Charlie accepts, Davis's plan is set. But now Charlie's sweet ways are challenging his bachelor heart.
Chasing Charlie is the first sweet romance in the Texas Two-Step contemporary romance series from USA Today bestselling author Kathy Carmichael.